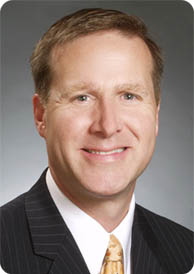 Specialty Areas:
Medical Malpractice
Negligence
Products Liability
Joseph P. McGinn
Bio
Joseph McGinn joined Esdaile, Barrett & Esdaile in 2000 after garnering significant experience as a Registered Nurse in various inpatient and outpatient practice areas and nursing management, including ICU, OR, recovery room, rehabilitation, home health care and nursing administration. Joe concentrates his practice on the litigation of complex medical malpractice matters, products liability, automotive negligence, and has represented nurses before the Massachusetts Board of Registration in Nursing in connection with allegations of malpractice. Joe is fluent in Spanish.
Professional Accomplishments
Through trial and arbitration, Joe has litigated numerous medical malpractice and product liability claims involving wrongful death and substantial physical injuries. He has participated in numerous multi-million dollar awards and settlements for injured patients in Massachusetts, including a $2.25 million settlement for a 27 year-old woman whose doctors failed to diagnose and treat an evolving carotid artery dissection, a $1.75 million settlement for the family of a 75 year-old woman who died as a result of improper placement of drains during surgery, as well as a $2.75 million award for a 52 year-old woman who was rendered paraplegic during spinal surgery.
Professional Affiliations And Civic Associations
American Bar Association
Essex County Bar Association
Massachusetts Academy of Trial Attorneys
Professional Recognition
In 1994, Joe co-authored the "Kinship Care" policies and procedures used  today by the Child Welfare Unit, Department of Families and Children's Services , US Department of Health and Human Services.
Joe was recognized as a "Rising Star" in 2009 and 2010 by Super Lawyers publication.
Contact Info:
Phone: 617-482-0333
Email: jmcginn@ebelaw.com
Licenses:
US District Court, District of Massachusetts, 2003
Commonwealth of Massachusetts, 2001
Registered Nurse, Commonwealth of Massachusetts, 1987-present
Registered Nurse, State of Florida, 2009-present
Education:
Suffolk University Law School, JD, 2000
Suffolk University School of Management, MPA 1994
Boston University School of Nursing, BSN, 1987
Past Employment:
Children's Hospital, San Diego, CA, Staff RN, 1991-1992
The Floating Hospital for Children, Tufts Medical Center, Pediatric ICU Staff RN, 1988-1991
The Floating Hospital for Children, Tufts Medical Center, Pediatric Staff RN, 1987-1988